Make your gift today!
Rebecca Penneys Friends of Piano is a non-profit 501(c)3. All donations are tax deductible to the extent allowed by law. Friends of Piano supports the tuition-free Rebecca Penneys Piano Festival, the Ambassador Concert Series, RPPF-Mini, and other related projects, seminars and workshops. We are registered with the state of Florida as a charitable organization #CH50162. A copy of the official registration and financial information may be obtained from the division of consumer services by calling toll-free 800-435-7352 within the state or by consulting https://www.fdacs.gov/ConsumerServices Registration does not imply endorsement, recommendation or approval by the state. Click here to read about our current financial goals.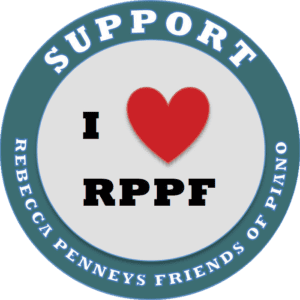 Gift by Check
Rebecca Penneys Friends of Piano
7100 Sunset Way #808
St Pete Beach, Florida 33706-3653
Support While You Shop
AmazonSmile, the nonprofit website operated by Amazon is phasing out, unfortunately. We are in the process of researching another support/shop. Stay tuned.
Gift Securities or Wire Transfer
Gift from IRA
If you are 70½ or older, you can make a contribution of up to $100,000 annually from your IRA account to support the legacy and mission of the Rebecca Penneys Piano Festival & RPPF-Mini and potentially receive a tax benefit. A donation transferred directly from your IRA administrator to Rebecca Penneys Friends of Piano is usually not considered taxable income on your federal income tax return, but it does count toward your required minimum distribution. As always, please consult your advisors with our Tax ID # 46-1577835 to determine if this type of gift is right for you.
We are happy to hear from you!
The Steinway pianos at USF are made possible by the kind assistance of the Music Gallery, Clearwater, Florida. THANK YOU!